In this article, I'm not going to list restaurants where you can eat vegan. For that, you have the application Happy Cow or other. What I want to share in this article is my favourites places, for an atmosphere or for food. I have personally tested all the addresses I share in this article. This article is updated to April 13, 2023.
I decided to sort the addresses in order of arrival in a meal (appetizer, main course, dessert)
Aux saveurs de notre dame: a multitude of choices for a successful aperitif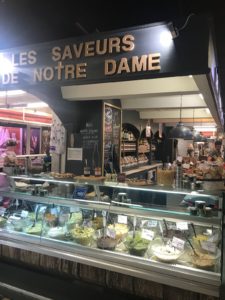 It is in the heart of the hall market that this shop is located. Alexis will welcome you and propose a multitude of creams and composition to make canapés for the aperitif.
My favourites are Artichoke Cream, Eggplant Caviar and Garlic Cream with Orange.
It also offers olives and garlic confit with different flavours. When I make hummus, I use confit garlic with basil. It gives a tasty taste. Confit garlic can also be eaten as an aperitif, like the olives that Alexis offers an impressive variety.
The most is that you can taste everything for sale. Like that no mistake in the choice. But be careful to taste too many things that will make your choice very difficult because everything is excellent.
Practical info:
Address: Les halles, Avignon
Opening hours: every day except Monday from 6 am to 1.30pm (2 pm at weekends)
Plus: you can park your car at the top parking, and for any purchase have a ticket of one hour discount.
Riad: Moroccan restaurant with vegan options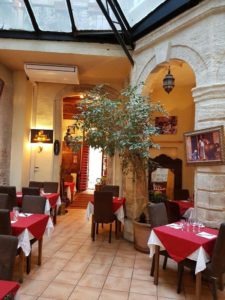 When we pass in front of this restaurant, we can not imagine that behind the facade hides the best Moroccan restaurant in the city. The restaurant is under a glass roof of an old building courtyard. The mixture of old stone with carpets and Moroccan paintings gives this restaurant an incomparable hidden.
This restaurant is not vegan. However, there are three starters and two vegan main courses.
For starters, you can choose from eggplant caviar, artichoke with orange or chickpea cream. Eggplant caviar is my favourite starter.
For the main course, you will have the choice between a vegetarian couscous (vegan in fact) or a tagine of vegetables. The couscous is served with chickpeas and onion confit. A true delight for the taste buds.
Beware, this restaurant is very generous in quantities so if you are two or more it is better to share the entrance.
Unfortunately, the desserts are not vegan although I think it's hard not to be sated after the couscous. However, you can enjoy a mint tea.
Practical info:
Address: 17 rue Galante, Avignon
Opening hours: every day from 12h to 14h and from 19h to 22h
Plus: semolina and vegetables are unlimited with couscous.
L'art des Graines : the only vegan restaurant in town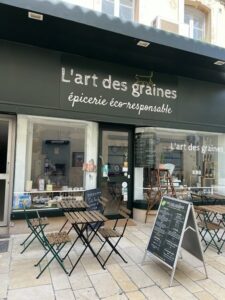 This brand new vegan restaurant in Avignon fills a gap. Indeed, since the closing of the cantine des Anges, there was no more vegan restaurant in the city. So it is with a curiosity mixed with a certain excitement that I went to this restaurant. You have the possibility to eat on the terrace, on the first floor or on the first floor. The upstairs is really nice and will surely be a great refuge during the summer season.
On the menu, you can choose between burgers, a salad or the dish of the day. I ordered the Wittig with home fries. This burger is a real delight. The brioche bun is fresh and you can appreciate the work of the artisan. The caramelized onions are just to die for. The mayonnaise is also extremely good. There is nothing to reduce. This is probably the best vegan burger in town. The proportions are generous and you can get away with it. But you'll miss out on something even better. For the sake of investigation (and especially for the sake of greed), I shared a specula tiramisu with the person who accompanied me. That was the icing on the cake. With each bite, I had an explosion of flavor in my mouth. This dessert is not on the menu, it was the dessert of the day. Given the talent of the chef, I think you don't take a chance ordering a dessert.



It's also a bulk grocery store.
Practical info:
Address: 53 rue du vieux sextier, Avignon
Opening hours : every day from 12 to 2pm and in the evening from 7 to 9pm except on sunday and monday
The plus: all the food is organic
Amorino: the glacier for gourmands
Amorino
There are many glaciers with homemade ice cream in Avignon. All will offer you a wide variety of vegans sorbets. The big difference with Amorino is they are the only one offering a chocolate vegan ice cream. What I also like is that they separate ice cream and vegan sorbets from traditional ice cream.
Practical info:
Address: 16 rue St Agricol, Avignon
Opening hours: every day from 12h to 00h (19h on Sunday)
Plus: if you want to eat your ice cream on site, there are some tables and chairs inside.
Do not forget to watch our nocturnal tours for a visit to Avignon in an original way.